Are you cruising to Vietnam? Will your cruise ship be docking at port of call: Halong Bay/Hanoi (Cai Lan) Cruise Port, Vietnam and you do not know how to find and book Hanoi Shore Excursions for you and your family? Ho Chi Minh City Shore Excursions is here to write this blog to give you, hopefully, some know before you go useful insight about port of call: Halong Bay/Hanoi (Cai Lan) Cruise Port, Vietnam . From how to head for an exit to what shore excursions are available; the 10 must-visit attractions in Hanoi; the best restaurant for lunch;… This is all you need to take note!
I. OVERVIEW
The deepwater port of Cai Lan is your gateway to the splendors of North Vietnam. Nearby Halong Bay is one of the world's extraordinary scenic wonders. This World Heritage Site boasts a calm bay studded with over 3,000 dramatic limestone islands, islets and rock formations. Visitors to Cai Lan can also venture up the Red River to fabled Hanoi, the "Pearl of the North." Today, with memories of the Vietnam War fading, the city impresses with its splendid colonial architecture, ancient temples, superb parks and myriad lakes. It's little wonder that Northern Vietnam remains one of Asia's most popular vacation destinations.
The limestone islands in Halong Bay are riddled with caves. The French who once ruled Vietnam called Go Dao Cave the Grotte de Merveilles, the grotto of marvels. Of course, they left their graffiti among the astounding assortment of stalactites and stalagmites.
1. Top Food and Drink Spots near Halong Bay/Hanoi (Cai Lan) Cruise Port
Quang Anh
Address: Bến tàu khách Cát Bà, đường đi bãi tắm Cát Cò 3, vịnh Đồng Hồ, Cát Hải, Hải Phòng, Vietnam
On Cat Ba Island, Quang Anh is an excellent option after a day's worth of hiking. There's a land version of the establishment, but the floating restaurant is more of a novelty. Steamed, fried, or roasted, local seafood rules the menu here.
Avocado Restaurant
Address: C342-343, Old Street Zone, No. 9 Halong Road, Quảng Ninh 200000, Vietnam
Avocado Restaurant has both Western-inspired dishes like lamb loin and grilled chicken breast as well as traditional Vietnamese dishes. Try the steamed sea bass or the traditional Halong squid cake with sticky rice while you're here.
Family Bakery
Address: TT. Cát Bà, Cát Hải, Hai Phong, Vietnam
Coffee and pastries are the main menu items at Family Bakery, influenced by European-style breakfast treats like flaky croissants. If you have a sweet tooth, this is the place to go in Cat Ba. Cakey chocolate doughnuts and filling egg sandwiches are must-tries, too.
2. Culture & History of the Halong Bay/Hanoi (Cai Lan) Cruise Port
Hanoi, which is now the capital of Vietnam, has passed through the hands of many colonizers, including the Chinese, the Europeans, British, and French. As part of the Geneva Accord, Hanoi was declared the capital in 1945. The U.S. Vietnam War devastated parts of Vietnam through attacks and bombings, and killed thousands of Vietnamese citizens.
Today, Hanoi is facing rapid growth in population and infrastructure. Halong Bay has been a UNESCO World Heritage Site since 1994, known as a solo traveler's haven for its hiking, scuba diving, and incredible rock climbing. They're mostly uninhabited and remote, but Halong Bay's islets have become synonymous with the backpacker's off-the-beaten-path Vietnam. More importantly, they have left a mark on the culture and traditions of Vietnam, as Halong Bay is viewed as a sacred site.
3. Halong Bay/Hanoi (Cai Lan) Cruise Port acilities & Location
As part of a Halong Bay cruise package, your cruise ship will dock in Halong Bay or at the nearby Cai Lan port. Most cruise passengers stay in Halong Bay and explore the surrounding areas rather than venturing too far into the mainland. You'll be about a 15-minute walk from cafes, free wifi, souvenir shacks, and restaurants.
4. Transportation in Halong Bay/Hanoi (Cai Lan) Cruise Port
Taxis will be waiting for passengers at the cruise port. Uber and the taxi app Grab are in operation in Hanoi as well. Buses to Halong from Hanoi leave every half hour. Motorbike taxis are called xe om in Vietnam, and they're a great option for solo travelers wanting to experience the city on a motorbike.
5. Shopping Near Halong Bay/Hanoi (Cai Lan) Cruise Port
On a Hanoi cruise, you'll find that shopping opportunities in Halong Bay area aren't highly developed yet, but small ships float along the bay selling snacks and sweets. The Bai Chay night market is the place to go for Vietnamese artisanal items and handmade goods, plus plenty of authentic Vietnamese street eats. Don't forget that bargaining is part of the culture here, so stick to your guns to secure a good deal.
6. Local Currency & Tipping Customs
In Vietnam, the official currency is the dong, or VND. Tipping isn't an expected practice in Vietnam, but leaving extra change for a taxi driver is welcome. Tour drivers rely on tip income, so be sure to tip any guide who helps you during your time on a Hanoi cruise. A general practice is to tip waiters and waitresses 5-10% at a restaurant. Bargaining is a central part of the culture in Vietnam, so you're welcome to practice your haggling at the markets and shops here.
7. Language
The official language is Vietnamese, but English and French are widely spoken.
II. TOP THINGS TO DO FROM HALONG BAY/ HANOI (CAI LAN) CRUISE PORT, VIETNAM
1. Hanoi Opera House
Hanoi Opera House is the star of the French Quarter. Your French Quarter tour can't be complete if you miss Hanoi Opera House.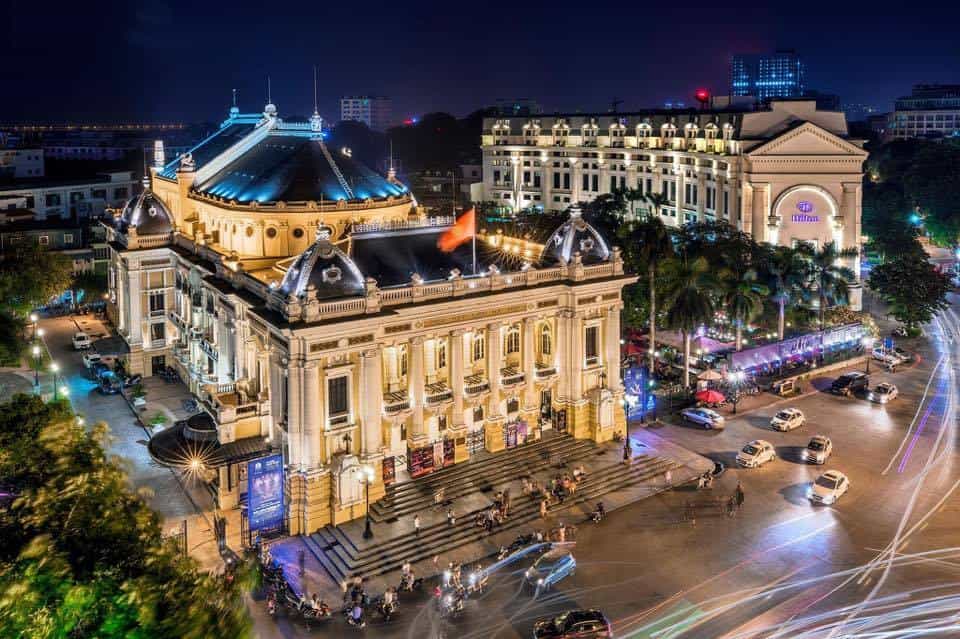 2. Hoa Lo Prison
Hoa Lo Prison is a much heavier dose than the other two landmarks of the French Quarter. Hoa Lo Prison is not only a national historical landmark but also a war-crime evidence during French Colonial Period.
3. Hoan Kiem Lake
Hoan Kiem Lake is the heart of Hanoi, located just right next to the Old Quarter, making it a place you can't miss on your Hanoi City tour.
Related to the popular legend, Hoan Kiem Lake was the place where the story of Emperor Le Loi returning his sword to a Golden Turtle God took place. After the legend, the lake's name changed from Luc Thuy (Green Water) to Hoan Kiem (Lake of Returning Sword).
On the northern shore of the lake lies Jade Island where the Temple of Jade Mountain stands. The red wooden bridge called The Huc (meaning Morning Sunlight Bridge) is a popular sight of the whole complex.
Come to Hoan Kiem Lake you can take a walk around the refreshing and beautiful lake to enjoy the atmosphere, cultural space, and the food. Hoan Kiem Lake is absolutely a must-visit spot in Hanoi.
4. Temple of Literature
Come to Temple of Literature to learn more about Vietnam under the influence of Chinese Confucianism. The Temple of Literature, besides its historical and cultural significance, shows a light on how Vietnamese people appreciate education and enlightenment of the mind. You can also learn more about some of the brightest minds and literature talents throughout Vietnamese history.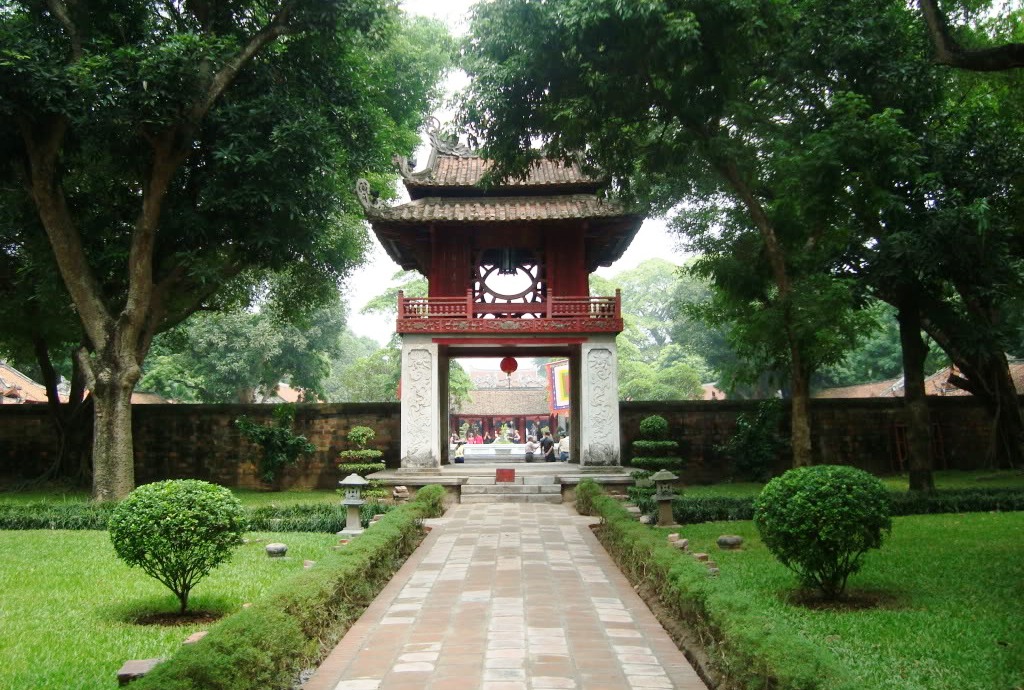 5. Ho Chi Minh Mausoleum
Ho Chi Minh Mausoleum on Ba Dinh Square, by no mean, should be missed by you when visiting Hanoi. The mausoleum is the final resting place of the most iconic, most beloved leader in Vietnamese history.
From 1973 to 1975, the construction of the mausoleum finished with great effort brought together from all over the country.
The building was made of granite, modeled on Lenin's mausoleum in Russia. Around the mausoleum was hundreds of plants and flowers, among which the bamboo trees have the most meaning.
When visiting Ho Chi Minh Mausoleum, visitors are required to dress with respect (no hat, shorts, sunglasses, sleeveless shirts, and miniskirts). Cameras and bags are not allowed to enter the mausoleum.
6. Watch a Performance at Thang Long Puppetry Theater
Water Puppetry is a traditional folklore performance of Vietnam which showcases the traditional daily life of Vietnamese farmers with activities like cultivating, tending buffalo, catching fishes or communal entertainment such as swimming contest dragon dancing.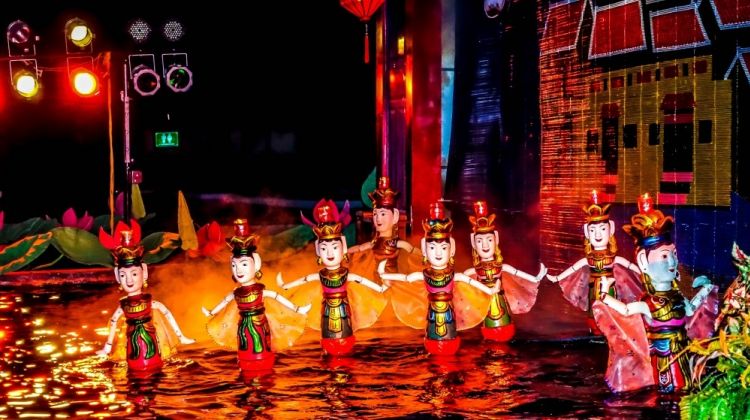 Water puppetry has a certain attachment to Vietnamese people since it's a traditional art that has been performed within the agricultural villages for centuries, by and for the farmers.
In real life, the villagers hold water puppetry performances in the village's communal temple. Long bamboo sticks are used to control the puppets by the artisans standing behind the curtain.
Thang Long Puppetry Theater is the first place where this traditional folk art to be made on stage with light and music effects before an international audience.
With a convenient location, just across Hoan Kiem Lake, watching a water puppetry performance at Thang Long Theater is a must thing to do in Hanoi.
7. Shop at Dong Xuan Night Market
Dong Xuan Market, the oldest market of Hanoi was built in 1889 by the French administration. As time goes by, the market has developed into the largest covered market in Hanoi where you can find anything from clothes, souvenirs, to household good and foods.
Originally, Dong Xuan is not a market for tourists but Dong Xuan Night Market is. On weekend's nights (Fri-Sun), a 3-kilometer long line of stalls spreads on the middle of Hang Dao Street.
Here you can find hundreds of things full on display: mostly souvenirs, clothes, bags, toys, accessories… The food section offers several choices for Vietnamese street foods as well as other Asian cuisines – Korean, Thai, Japan…
On Saturday evenings, traditional folk arts and cultural performances such as cheo, ca tru will be held. From 20:00 to 22:00, it's the most crowded time. If you only want to shop, you should visit earlier.
8. Enjoy a Cup of Vietnamese Coffee
Vietnamese coffee is famous worldwide, this is a well-known fact. Coffee in Vietnam tastes so much stronger, sweeter and more flavorful, with a lot of variations and combinations that will surprise you.
The French introduced coffee to Vietnam during the colonialism but Vietnamese people sure have made drinking coffee a culture of themselves.
It's a sight to happen only in Vietnam – people sitting on the sidewalks and waiting for the coffee to drip. Working people spend a lot of time to enjoy a cup of coffee, making it a daily habit.
Black coffee and brown coffee (a mixture of black coffee and condensed milk) are the most common and the cheapest. While variations that make use of yogurt, egg, and fruits have become so popular.
9. Learn more about Vietnam at Vietnam Museum of Ethnology
Among the rich collection of museums in Hanoi, the one that's worthiest of your visit is Vietnam Museum of Ethnology.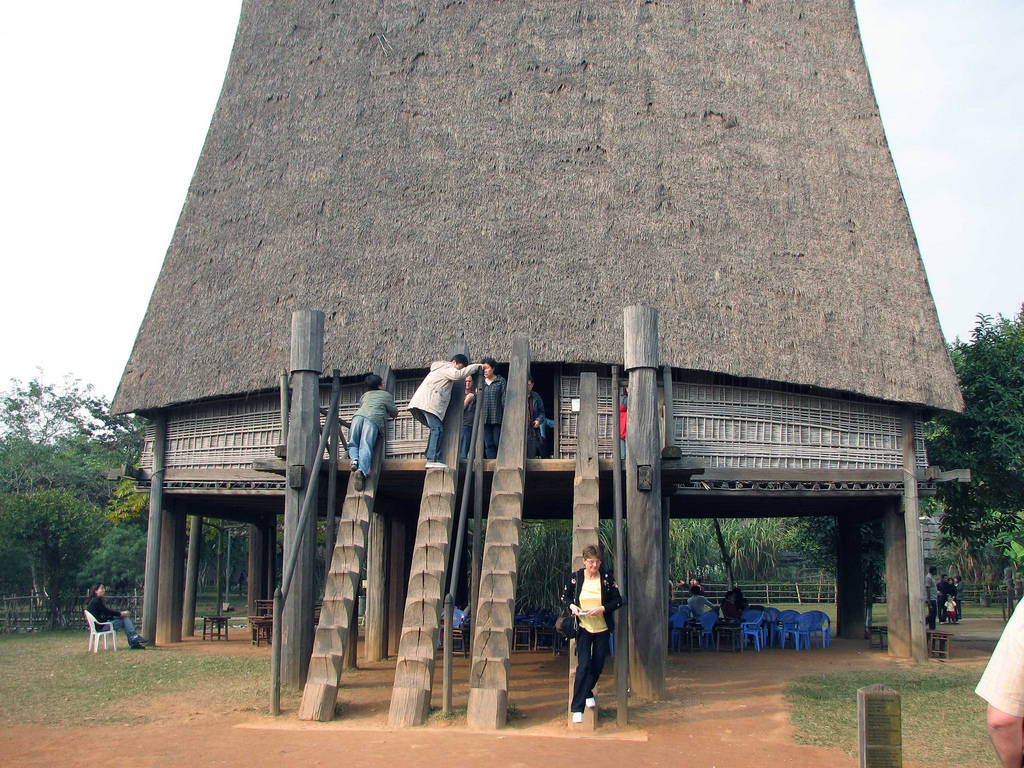 The institute offers an insight into the 54 different ethnic groups of Vietnam. A visit to the museum is a great opportunity to understand more about Vietnamese diversity in culture and identity.
The museum has two sections:
Indoor house featuring representative objects from each and different groups,

and outdoor representing a range of traditional houses of minorities in Vietnam.
All the artifacts are presented in a simple way, put in their cultural context. It's easy to imagine the life of each ethnic people through the setting and information the museum presented.
10. Explore Old Quarter Hanoi by Trishaw Ride
Roam the narrow, winding, and often crowded streets of Hanoi's Old Quarter district, which is the beating heart of Hanoi's cultural scene. By day, these French colonial buildings are office buildings, but by night, the district bursts to life with eateries, art galleries, and shophouses. Leave a few hours to stroll unhurriedly so you can explore Dong Xuan, the city's biggest market, or the National Museum of Vietnamese History.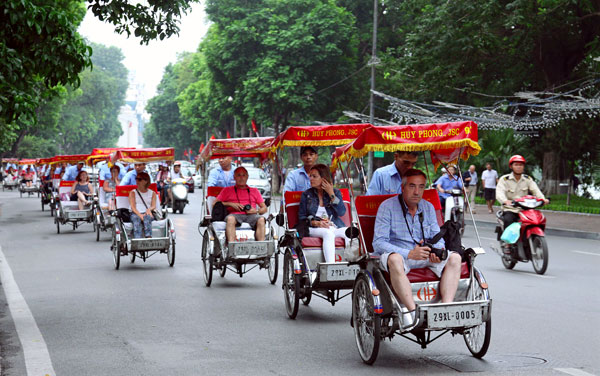 11. HaLong Bay Discovery (04 hours or 08 hours)
Halong Bay is known as a beautiful natural wonder in northern Vietnam. It is dotted with 1,600 limestone islands and islets and covers an area of over 1,500 sqkm. This extraordinary area was declared a UNESCO World Heritage Site in 1994. For many tourists, this place is like something right out of a movie. The fact is that Halong Bay features a wide range of biodiversity, while the surrealistic scenery has indeed featured in endless movies…
12. Luon & Sung SOT Caves
Thien Cung Grotto and Dau Go Cave are among the most-visited natural attractions in magnificent Halong Bay. Boat tours reveal an amazing underground world of shimmering stalactites and stalagmites.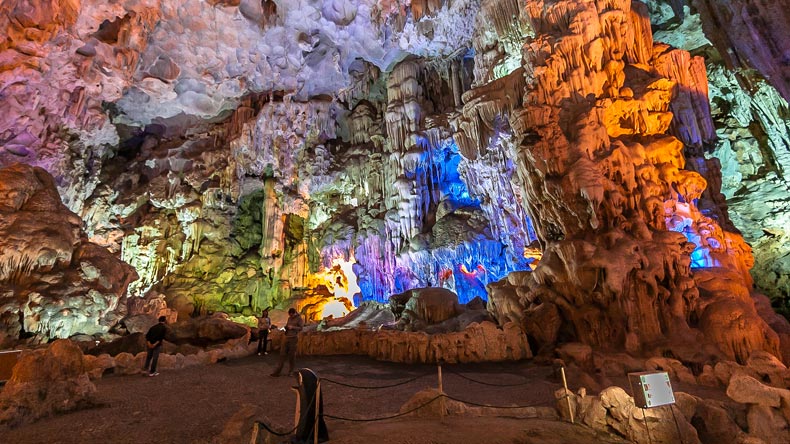 III. SUGGESTED SHORE EXCURSIONS (PRIVATE & GROUP SHORE EXCURSIONS) IN HALONG BAY/ HANOI (CAI LAN) CRUISE PORT, VIETNAM
Ho Chi Minh City Shore Excursions offers the best private custom deluxe Hanoi Shore Excursions for all valued cruise ship passengers from Halong Bay/Hanoi (Cai Lan) Cruise Port, Vietnam. We have been highly recommended by many customers on Tripadvisor, Cruise Critic and Private Guides. Join our Hanoi Shore Excursions, you not only have a chance to explore all the beauties and hidden charms of Hanoi Capital, also enjoy various delicious speacialities and understand more Vietnam history and cultures. We guarantee a local perspective that will give you and your family a once in a lifetime experience. Please check out recommended Vietnam Shore Excursions, if you do not find any suitable itinerary, please contact our Vietnam travel experts. We will help you tailor a unique shore excursion to Vietnam that is exclusively for you.
Da Nang is a coastal city in central Vietnam known for its sandy beaches and history as a French colonial port. It's a popular base for visiting the inland Bà Nà hills, located to the west of the city. Here the Hải Vân Pass has views of Da Nang Bay and the Marble Mountains, 5 limestone outcrops that are home to pagodas and caves containing Buddhist shrines. Nowhere in Vietnam is changing as fast as Danang. For decades it had a reputation as a provincial backwater, but big changes are ongoing. Stroll along the Han riverfront and you'll find gleaming new modernist hotels, and apartments and restaurants are emerging. Spectacular new bridges now span the Han river, and in the north of the city, the landmark new D-City is rising from the flatlands…
---
---
Are you temped to visit Halong Bay and Hanoi? Why not let Ho Chi Minh City Shore Excursions arrange your perfect tailor-made trip to Halong Bay and Hanoi? Tell us your own ideas and requests by mailing to chiduyencssh@gmail.com. One of our travel experts will get back to you as soon as possible!